We tend to think of the human as autonomous entity not the biological complex of bodies (human and more-than-human) exposed by pandemic and revealed through the microscope. I am currently developing a new line of long-term enquiry exploring collisions of bodies, water and mud to develop a response to the fragility of this moment and our human needs of homing, care and intimacy.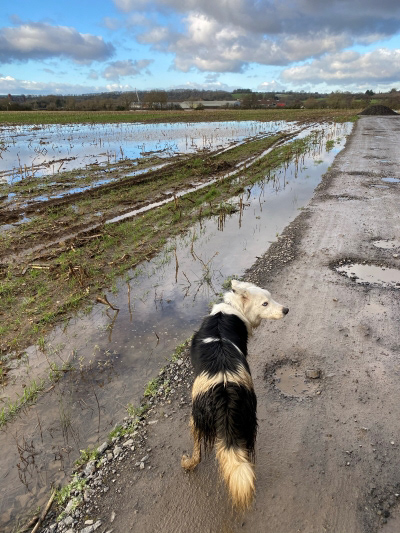 I am a visual artist with an interdisciplinary background in art (MA, Falmouth 2012) and cultural geography (PhD Exeter, 2016). I have a studio at Spike Island, Bristol. I live near Bristol on a boat on the River Avon having recently relocated for a few years from my home in West Cornwall.
My current work is focused on the margins between bodies, sites and cultural spaces and the biological complex of bodies (human and more-than-human) exposed by pandemic and revealed through the microscope. I work through research-led, slow-burn projects utilizing a range of media including painting, performance to camera and sculptural materials. My working process is heavily influenced by geographical interests from methods (fieldwork) to concerns/theory (politics of landscape, bodies and materiality).
My most recent work for Centre of Gravity (2020) at the Old Soap Works, Bristol was concerned with the imbalances of housing and land ownership, and the way that rampant development so often disrupts communities. 
Elsewhere, my work points to questions of landscape and power — fences, borders, pollution, degradation and decay — and pressing contemporary issues around how people relate to places, landscapes and the environment. 
Work has been included in shows at Tate Exchange (2019), the Pavilion, Hauser & Wirth Somerset (2017) and the survey show Imagined Landscapes, Royal West of England Academy (2016). 
My art-practice-based PhD in cultural geography (Exeter, AHRC funded, 2016) considered landscape to be in an often violent, persistent process, beyond the cultural framings of landscape-as-image. Academic highlights include performance-lectures at Dartington (2016), Cardiff University (2015), and presentations at the American Association of Geographers (San Francisco, 2016) and the Royal Geographical Society (2012-17). I publish academically at the intersection of art and geography. I am a Fellow of the Higher Education Academy and hold a PGCHE with teaching experience in theatre studies (performance practices) and human geography.
Exhibitions & performances (selected)
2021 Vessels
 | 
Water
 | Mud | Care, conversation with artist Katy Connor & curator Nella Aarne,
Spike Open Studios online
.

2020 The Best of Bristol Living (including BRISopoly), Centre of Gravity, Soapworks, Bristol
2019 BOSopoly, Spike Island Open Studios, Bristol
2019 BOSopoly, [installation] with Spike Associates, Tate Exchange, Tate Modern.
2017 Tectonics (II), [artist book, with poet Anna Mace]. In The Open, Bank Street Arts & Sheffield Institute of Arts (SIA) Gallery
2016 Tectonics (I), [poetry/performance/video collaboration with Anna Mace]. South West Poetry Tour [screening], Hauser & Wirth, Somerset.
2016 Fractured Earth, [online art exhibition]. GeoHumanities.
2016 25/5/ Poniou, [curated exhibition, 6 February – 12 June] Imagined Landscapes, Royal West of England Academy, Bristol.
2015 Fractured Earth, [performance-lectures, installation and public discussions – PhD presentation], Borlase Smart John Wells Trust/University of Exeter, Porthmeor Studios, St Ives.
2015 Water-worlds [curated programme of artists projects], RGS-IBG, Exeter. [Linked online network].
2014, 2011, Cornwall Workshop, invited participant. International artist workshop.
2013 Land Matters #1, group show of artist-researchers for Transition10, Newlyn Art Gallery.
2013  The Ocean City Artist-in-residence KARST Plymouth/Back Lane West, Redruth. Presentation, Plymouth Arts Centre.
2020 ACE emergency funding award
2016 Santander research travel grant
2012 - 2016 AHRC PhD studentship
2010 Sandra Blow Award for excellence, Falmouth University
2008 ACE grants for the arts funding
Conferences and talks (selected)
2019 Invited speaker, Historical and Cultural Research Group, University of Bristol
2018 Geologic Landscape: a performance and a mobile phone in Estranged Landscapes, Royal Geographical Society Annual International Conference (RGS-IBG)
2017 Panel chair & exhibiting artist, Cross Multi Inter Trans, ASLE-UKI & Land2 Conference, Biennial Conference of the Association for the Study of Literature and the Environment (UK and Ireland)
2017 Disruptive interventions: art practice and the generation of politically complex cultural geographies in Putting philosophies of geography into practice (1), RGS-IBG
2016 Fractured Earth: encountering the contagions of landscapes and images in Situated practice in the art-geography nexus, RGS-IBG.
2016 Landscapes of vulnerability here to there, from then to now performance-lecture, Language, Landscape and the Sublime conference, Schumacher College, Dartington Hall.
2016 Infectious images and geopolitical vulnerabilities in Affective and Emotional Spaces of vulnerability, AAG.
2015 Water-Worlds: art practices and wet ecologies, session convener, RGS-IBG, Exeter.
2015 Something happened: uncomfortably attuning to geo-trauma through art practice performance-lecture Spaces of Attunement conference, Cardiff University.
2015 Art as Political Act: something happened Vibrant Matters conference, University of Dundee.
2014  Art as Political Act: paying close attention to the barely seen RGS-IBG.
2014 Contingent foldings and ruptures: working beyond the frame of painting to unsettle representations of landscape Nordic Network of Digital Visuality, Stockholm. Funded NNDV.
2013  Coastline as disrupted edge: Unsettling the image of landscape performative paper at RGS-IBG, earlier version Emotional Geographies, Groningen.
Fellow of Higher Education Academy
2012 PGCHE Falmouth University

2016 - 17 Lecturer in cultural geography, University of Exeter
2013 -1 5 Associate Lecturer, University of Exeter
2011 - 2017 Associate Lecturer, BA Theatre, Falmouth University